On this page I offer a few more tips and various tidbits of information regarding additional equipment for outfitting your dive kayak. Note that some of the information presented here appears as email communications that I have had with readers of my book and web page.

---

KAYAK CADDIES

I offer a few ideas for building your own kayak caddy in my book, but Garry Sillers, of Scary Sports, offers a caddy he calls the Yak Kaddy that is definitely worth taking a look at. It is a simple, sturdy design that is quick to set up and it floats!

Take a look at Garry Sillers' Web Page at: www.ScarySports.Com.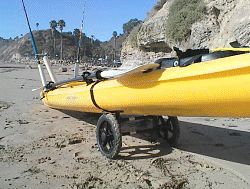 ---
Here's a drawing of the latest kayak cart that I designed and built with 2x4s and the wheels of a Big Wheel riding toy. The cart is secured by attaching a couple of bungee-cords to the rope end-loops and running them over the top of the kayak. I get a lot of use out of this simple caddy, especially since I broke my PVC caddy!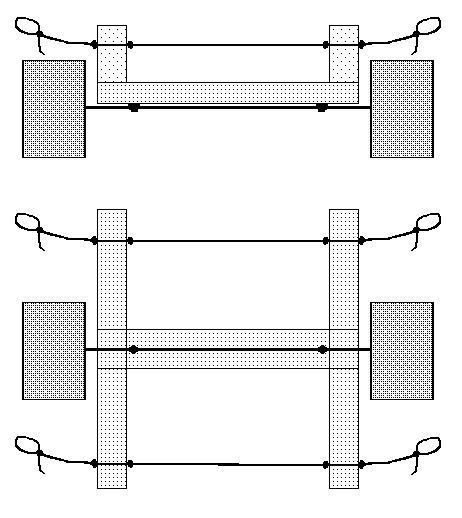 ---

ANCHORING

In my book, I present just about all the information you'll ever need to make an informed decision on selecting and setting up an anchor system for your dive or fishing kayak. My web page is not nearly as complete on that subject, so I will fill in some of the blanks here:

One overseas reader inquired about anchor selection and told me he was currently using a 5.5 Kg Danforth style anchor. He also asked if different kayak types and uses might have different anchor requirements.

The following was my reply:
Your 5.5 Kg anchor is very heavy for kayaking! I usually recommend no more than about 3.5 Kg in a mushroom anchor and about half that in a grappling type anchor or Danforth style.

My preference is the mushroom anchor with 2 to 3 meters of medium weight chain attached. I like the mushroom anchors because they don't get stuck in the rocks nearly as easily as others, especialy the grappling type. With added chain, the mushroom anchor works very well in sand as well as rock. The grappling type does not work well at all in sand, and often works too well in the rocks (gets stuck). There would be no difference in anchor requirements between different kayaks.

As more and more kayaks tie together to share one anchor, you should put out more line (scope) and consider adding more chain to help hold the first part of the line down flat. Here's a tip for you: make sure all the other kayaks tied up behind the anchored kayak have a bungy-cord across the line they use to tie to the next kayak. This will absorb the shock of the kayaks and keep them from jerking each other around. Another trick is to add a bungy-cord across a section of the anchor line itself to absorb the shock of the lead kayak pulling against the anchor. You will find all these tips (and much more) in my book!

I always add two tethers very near the front of my kayak for clipping to my anchor line and rope spool. The second one is for redundancy. You can use the front toggle handle for one tie-off point but I would still add a second tether and swivel-snap for a redundant connection to the line just to be safe.

You will find that a good quality 3/16" (inch) nylon rope will be sufficient for your anchor line. Buy it in 100'(approx. 33 meters) increments and tie them together as needed for depth. We rarely need more than 100 feet unless diving in one of our deeper locations.

Another reader wrote:
Hi Mark, bought your book two years ago, went with a Necky Dolphin special ordered in red granite. As you say there are other colors than yellow. I have pretty much used your book as my bible. The one question I have - after splicing an eye in my 3/16 anchor line and sliding the tubing on to protect against chaffing, doesn't the tubing have to be anchored someway to keep it from floating up to the surface? Thanks for taking the time to put together your book and give my best to the other Take Timers! Plans still in making to get south and splash with you guys. Steve, Elk Grove, CA

My reply to Steve:
Hi Steve, You'll probably laugh when I tell you how simple my solution was. I tied a knot in the line just above the tubing. First, though, I strectched the line pretty well so, when the line was wet and stretched, the tubing would still stay very close to the bottom extent of its' possible movement. A tie-wrap or nylon string wrapped to a certain thickness and tied would also do the trick. Perhaps I should think about better defining the setup in a future printing! Thanks for the good word! Stay in touch and think about coming down when the water clears and warms up a bit. Mark

---

SOME EMAIL REGARDING KAYAK SAILING GEAR

Dave wrote:
Ahoy there: Great article on kayak diving. Bit of deja vu as I have been down in Mexico for the past four years and have dove out of my Necky Kyook (free diving, no tanks).

Whilst down there I developed a little sailrig for my kayak which incorporated inflatable pontoons or "amas". I found that I could sail or paddle to a dive spot, leave the amas rigged and have about the most stable little "trimaran" you ever wanna see. Why you can get up and walk around!! The outriggers deflate and stow in a very small space on the foredeck and in no way impede a guys paddlestroke.

I am currently in the process of producing a small number of these sailrigs kits for kayaks. I'm wondering if the outrigger part is something kayak divers might be interested in. Thanks! Dave Fiorito

This was my reply to Dave:
The outriggers probably would not be of great interest to the kayak divers who only want to paddle out to their site, do their dives, and paddle back in. The outriggers would certainly be of interest to anyone who has ever thought of adding a sailing rig to their yak, no matter what purpose they are venturing out for. I have often thought about how nice it would be to sail out and back to/from one of our favorite dive sites that is about a mile downwind from the launch point. As you have probably found though, stability is not really a big issue to seasoned kayak divers. Even on the tippy Necky, you eventually get used to the stability (or lack of) of just about any kayak you would consider diving from. The divers in our group would probably not want to spend time setting up and taking down an outrigger assembly to add stability for dive preparation and after dive activities. This maybe a different story for beginners and novices!

I would guess you have a rudder on your Necky that makes sailing (at least downwind or nearly so) much easier. We don't have provisions on our Scrambler XT's for a rudder, much less a dagger board that would give you much more headway capability into the wind. The Scupper Pro models all have provisions for a rudder now, and with that, there would be more incentive to develop a dagger board assembly and to add outriggers and sail rig such as you described.

If you get a chance, I would like to see what you have come up with, both in the outriggers and the sail rig. If you can mail a photo or two, or possibly email a drawing or scanned/digital photo, that would be great. I might even consider putting a drawing and notes in my book regarding them, of course with a little credit to you. Also, let me know if you have considered adding a dagger board and what kind of luck you have with that. My initial thought is to use two scupper holes on one side of the boat to hold a single dagger board attached somehow to two pieces of PVC that get pushed up into the scupper holes. For higher performance, two dagger boards could be installed the same way. They wouldn't have to be too deep but the design should not create a lot of drag.

Then, Dave wrote back:
Mark: Thanks for taking the time to write. I'd send you some drawings but I don't know how to do it thru the email. If you have a fax number I could send 'em that way.

I do have a leeboard that attaches over one of the ama tubes. It does greatly improve upwind performance as one would expect. So you definitely need all the things that a regular sailboat needs: sheets, halyards, deck hardware, oversize rudder. I even have a spinnaker!! Talk about screaming, off the wind. However, all this and dive equipment too might be a bit much to ask of a kayak.

Like you say my only experience has been with the Necky and I did learn to scramble in and out without outriggers. Can't imagine how you do it with tanks and weight-belts though. Those newer sit-on-tops must be more stable.... Dave

---

COMMENTS ON FISHING POLE HOLDERS

I really enjoyed your web page. Really packed with information. I am relatively new to this Kayak thing. I currently own a Cobra XL, which I enjoy. I just purchased a Cobra Tourer. I am going to try it out tomorrow in Huntington Harbor, maybe Sunday.

My main reason for purchasing this boat is for more stability fishing and greater paddling range at minimal effort. I am not a scuba diver, although....

I would like to get a copy of your book to see what ideas and techniques you have developed with your experience on the water. Can I just send you a check or money order?? I have a resale license (as I have a small home based picture framing business), but do not intend on selling, just reading and learning.

I considered the Scupper Classic, as it was highly recommended by Dennis Spike. He seems to really dislike Cobra (as do his followers), but it just looked like a better boat. I emailed Cobra for some suggestions of where to put rod holders and get some of the threaded inserts that are used to install the foot pedals for the rudder mechanism (to perhaps add a mounting bar over the tank-well to install rod holers). That was over a week ago and they have not responded. I do wonder about their product support now, they could have at least responded that they received my message. Do you know anything about their track record with respect to customer service and support???

Anyway, please let me know the quickest way to get this book of yours. I really look forward to reading your suggestions. Thanks in advance. Ken

In response to Ken, I wrote the following (in part):
Yes, you can send a money order or personal check. I usually ship USPS-Priority within one or two days of receipt of your order!

I much prefer to have my rod holder in front of me where I can keep an eye on it and grab it quickly without turning around. The holder should keep the pole just out of the way of your paddling stroke. If possible, select a spot where the holder is on one side but angles the pole across the deck so the tip is just over the opposite side. This makes it great for trolling over your shoulder, and with a tall enough pole the line should stay well out of the way of your paddling. Always keep a tether on that pole!

You'll find plans for a very sturdy pole holder in my book. The design features a very low profile that is impervious to damage in case of a roll in the surf and, unlike Cobras' pole holder offering, it's water tight.

I have no experience with Cobra' customer support (being more of an Ocean Kayak fan), but have found most of their dealers to be a nice bunch to deal with.

---

David wrote:
Mark, bought your book a year ago and have found it to be extremely useful, well-written and thorough. While I haven't been able to venture out nearly as much as I'd like, the book makes the infrequent trips much more enjoyable.

One question: I just bought a Malibu Two (need room to take the kids for a spin). Any suggestions on how to set that up for solo diving? I know it's not ideal, but... Any suggestions would be great. Thanks. David

I wrote back: Howdy David, Thanks for the good word on my book. Actually, the Malibu Two will make an excellent, if not just a little slow, dive platform, especially for the larger paddler. The answer to your question of outfitting can be found in my book, although I don't cover the details as they pertain to the Malibu Two. It's mainly a matter of finding a way to secure your tank(s) and weightbelt so securely that the kayak could roll in the surf without tossing off those heaviest pieces of gear. Your remaining dive articles can easily be put into a gear or goody-bag and bungied and tethered (for redundancy) to the deck. Smaller items can be put below also.

If you want to put your weightbelt under one of the hatches, be sure to either tether the belt in the hold or add a bungy over the hatch cover. The weightbelt will weigh enough to dislodge the hatch cover in a roll and disappear into the depths.

Decide where you want to place the tanks and then add at least three sets of eyelets on either side, down low enough as to hold the tanks firmly against the deck. There's a picture in my book depicting a tank bungied and tethered in the footwell area of my XT that will show how I wrapped the bungies. The necessary eyelets were already present on my XT for this placement.

One tip is to place the eyelets so they are being pulled along their length by the bungy, as opposed to sideways. Don't forget to add tethers to every item stored on the upper deck, if not just for redundancy.

Once you get your Malibu Two to the dive site, you are going to love it as a dive platform. Fellow divers are sure to be jealous of all the room, stability, and cargo capacity you have!

---

TANK RACKS FOR THE SCUPPER PRO

Several divers in our group love their Scupper Pros (non-TW models). Ralph takes three aluminum 80s out on every dive! He puts one tank in the rear hatch and two up front along with most of the rest of his gear.

Ralph has a very low profile BC and is able to get one fully configured tank/BC/reg below in the forward hatch. Unfortunately, most hard packs and high-lift BCs WILL prevent you from storing the preconfigured tank leaving you to set it up while rolling on the high seas.

My brother liked the idea of having his first tank set up and ready to go so much that we designed a couple of 'racks' that allowed the assembly to be strapped down on top of the rear hatch. The downside to this configuration was that it greatly raised the center of gravity for the kayak, making it fairly tippy, and it left the assembly vulnerable to loss or damage in case of a good roll in the surf. For most dive outings, though, he found the convenience worthwhile over these drawbacks, and he did store the pieces below separately for the return trip through the surf.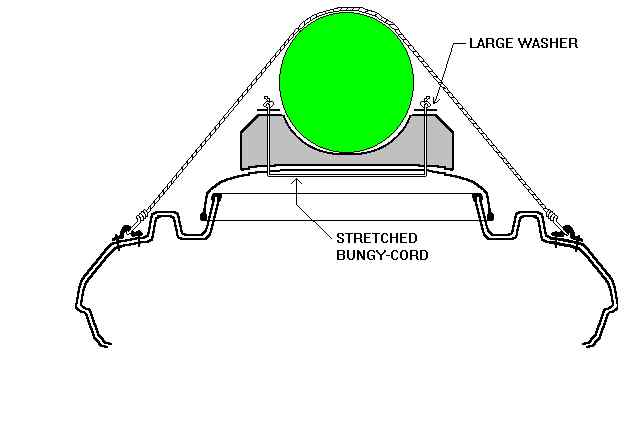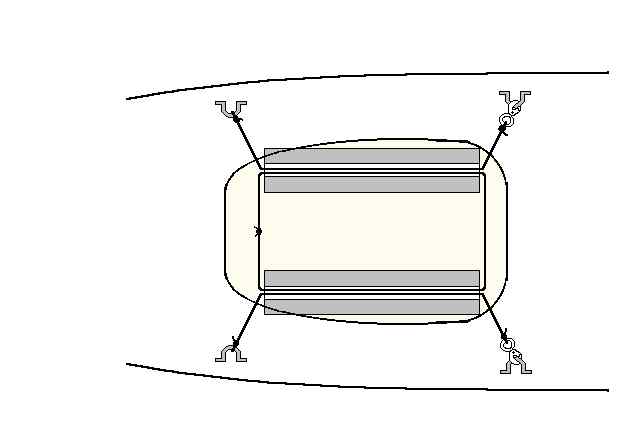 In both cases you would want to add sufficient eyelets and tethers to secure the tank in place extremely well, especially where surf will be encountered. The rack in tankrack1.jpg is cut from a thick sheet of closed-cell styrofoam. You could use an old boogie-board for this purpose. In tankrack2.jpg, the rails are made of hot water line insulator foam tubes placed over a section of 1" PVC. I think the rest of the designs are obvious from the pictures, but feel free to contact me personally if you would like more information.

The main difference for #2 is that you don't have to drill holes in the hatch cover! It would become obvious when you used such a design, also, that I show swivel-snaps on the forward lines in order that the rack may be released and tossed back out of the way to allow access under the hatch cover. The convenience of #1 is that the rack stays on the cover even when the cover is removed.

Before you bother trying one of these designs, you might want to try duct taping a tank assembly up there for a sea trial (calm water, air in the BC, and tank tethered) to see if you can deal with the raised center of gravity. A weight-belt down in the hold will help.

Other than my brother, none of the other Scupper Pro users I know have found an interest in these designs. Except for Ralph, who CAN get his configured tank below, the others have become accustomed to having to set up their first tank while bouncin' and blowin' out on the swells.

Ralph uses one more good tip that's not published anywhere: Because the bottom of the inside hull is so slippery, he has glued a patch of neoprene down to keep the bottom of his tank from slipping around as he sets up his second and third tank for the day. He keeps the tank standing in the hatch area while he attaches the BC and reg as a matter of convenience, security, and to keep the CG as low as possible during the change out.

We don't use any additional measures to secure the tank while it is stored below the hatch cover, however if you are prone to overturning in your kayak, you might consider keeping a tether attached to anything that doesn't float, including the tank and your weightbelt in particular, if you will be working for extended periods of time with the hatch cover removed. Other smaller items such as mask, wrist compass, knife, flashlight, etc. can be kept in a goody bag or gear bag that is kept tehered at all times.

Bottom line: no injuries and no lost equipment = a great day out on the high seas, no matter how good the diving actually was!

---


Stay tuned for future additions to this page!!! -MT

---